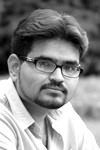 Introduction
Atul N Joshi is the CEO of Design Incubator R&D Labs Pvt Ltd.
He has varied domestic and international experience in areas of research and consulting in Human Computer Interaction Design, Usability Engineering, Design of Information Systems, Strategic Design Management, Emotional Design, User Centered Design Processes, Graphic Design, Brand Design, Animation and Film Making.
Apart from managing Design Incubator, consulting with several clients for User Experience Design expertise, conducting design research, Atul also enjoys teaching Graduate / Post Graduate level students in several Design Institutes in the country and trains scores of I.T. Professionals every year in User Experience Design.
Educational Background
› Communication Design Graduate with Specialization in
Animation and Film Making, National Institute of
Design, India. (1997-2001)
› Communication Design Research Scholar (New Media)
from FABRICA, Benetton, Italy. (2001-2002)
Employment Background
› FABRICA, Benetton's Design Research Center, Italy
(Interaction Design Researcher - 2001 to 2002)
› National Institute of Design, Ahmedabad, India
(Design Associate & Assistant Faculty - 2003)
› Human Factors International, India, US and UK
(Senior Specialist - 2004 to 2005)
› Industrial Design Center, IIT Mumbai
(Project Consultant & Visiting Faculty - 2006 Till Date)
› Design Incubator R&D Labs (India Pvt Ltd)
(Founder and CEO- 2006 Till Date)
Design Consulting / Training - International
SAP US, Ernst & Young US, American Express US, Vodafone UK, INCA UK, United Colors of Benetton Italy, Colors Magazine Italy, Playlife Italy, Killerloop Italy, Nordica Italy, United Nations Italy, Avis Italy, Rave UK, User Centric US, Motorola US, Avid US, BBC UK, Stryker US, Penske US
Design Consulting / Training - In India
Tata Consultancy Services (TCS), Patni Computers, Reliance, Cognizant, Mphasis, Hindustan Unilever, Rave Technologies, BMC Software, AztechSoft (now Mindtree), Lion Bridge Technologies, LRN, E-Gorvernance/ Government of India (DOIT, Land Revenue Department, Election Commission, State Governments) in collaboration with Vakrangee Software, Thermax India, Eco Axis, ICICI Bank, Hexaware, GS Labs, Gurukul Online, Uhuroo, Crompton Greaves and others.

Academic Associations as a Trainer / Educator
Industrial Design Center - IIT Bombay (India), National Institute of Design (India), Institute of Design - MIT (India), Institute of Design - Symbiosis (India)
Consulting, Research and Training Areas
Primary areas of professional interest include User Research and User Experience Design for Emerging
Markets, Usability Engineering, User Studies, Emotional Design, Mobiles Phones and Small Screen Devices, Financial Applications, Workflow and Enterprise Applications, Design Management and Interactive Technologies.
Other areas of professional interest include Interactive Game Design, Experimental Interactivity and 'New Media', Film Making, Advertising, Interactive Story Telling, Illustrating / Drawing, Interactive Animation, Action Scripting, Theatre, Script Writing, Acting, Design & Art History and more.